Love notes from our Customers
"I learned how to prepare my basics ahead of time so I could be ready with my dinner sooner. I really believe that advanced preparation is so important. It has also helped me to make better choices with my eating"

Lisa
"I am so thankful I did your 21-day program. I had great results lost 10 pounds and my energy was up. The food and recipes are so good. I loved every part of it. I never thought I would like quinoa as much as I do now."

Jen
"I feel great, plus dropped 10 pounds, which for me is huge I usually have trouble losing weight.. Many of the foods I really like and will keep eating and keep watching what we eat."

Laureen
Testimonials
"Joining Powered by Plants was one of the best things I've ever done. It gave me the tools to continue moving forward in my quest for more energy, more creative meals and to losing weight and keeping it off. I highly recommend it. My only complaint was that the program wasn't longer!"

Patty
 "Simply Nourished gave me that push that I needed to go back to basics. I found it super helpful, fun and so full of information at easy reach. I loved its simplicity and found the recipes to be really Nourishing. I reduced two sizes but MOST importantly I feel happy, renewed, heard and inspired. I also sleep better, I have tons and tons of energy and have gained more confidence and learned to trust myself."

Laura
"Alyssa's program changed my life! I now can go through my day without fatigue, body and headaches, and best of all weight loss without trying!! With these changes, I now have the energy to begin to add some exercise into my life . Thank you Alyssa, you've given me my life back!!!"

Mary
Stay Motivated + Reach Your Goals

Our Meal Plans come with weekly goal trackers to help you stay on track
Stay Motivated + Reach Your Goals
Our Meal Plans come with weekly goal trackers to help you stay on track
ADD TO CART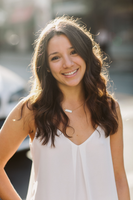 Hey there! I'm so excited that you're here. 
I'm Alyssa Rimmer the founder of Simply Quinoa, holistic nutritionist, passionate foodie, and believer in the power of self-love. It is my mission to help women just like you enjoy nutritious and delicious food and show you how to make this way of eating your lifestyle.
If you need a little help to reach your own health goals, I'd be honored and privileged to help you create the healthy lifestyle you desire.  With our proven strategies, we'll have you planning and prepping your meals ahead of time, so you'll never have to worry about coming up with a healthy meal idea at 5 pm again.  
Breakfast, lunch or dinner..I've got you covered. Why not give it a try?  
Much love ❤️
Alyssa Rimmer
Founder, Simply Quinoa
Holistic Nutritionist