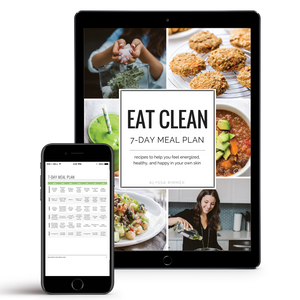 Whether you're new to healthy eating, looking for some inspiration, or just want to see what a plant-based diet is all about, the Eat Clean program has everything you need to get started. With a week's worth of simple and healthy meals, Eat Clean will help you see just how easy living a life full of whole foods can be.

What's inside:
Every recipe is gluten-free, dairy-free, vegan and refined sugar-free

Easy-to-follow meal plan grid to print out

Breakfast, lunch, dinner and snacks included

Nutrient-dense and easy-to-prepare recipes that will make you feel amazing from the inside out

and so much more!